Planetary Scientist Carl Sagan once said, "One of the greatest gifts adults can give - to their offspring and to their society - is to read to children."
Putting books into the hands of children and forming meaningful intergenerational relationships is a priority for Arrow Senior Living communities! To support our efforts, we have launched what we call "Arrow Story Corner." Each month a resident records the reading of a children's book that highlights an "Arrow Tradition," and these stories are shared online for all to hear. This tradition has grown from our company-wide Black History Month Story Corners, where residents all around Arrow Communities read children's books highlighting black figures in history.
To support small businesses and literacy efforts, we host a fundraiser and partner with the EyeSeeMe Children's Bookstore to purchase and donate copies of the books we read to local schools, and then a portion of our fundraising efforts also support The EyeSeeMe Foundation. The Foundation's mission is to create programs that increase childhood literacy for under-served communities and to promote African American History and multicultural literature that will increase respect and tolerance for diverse cultures.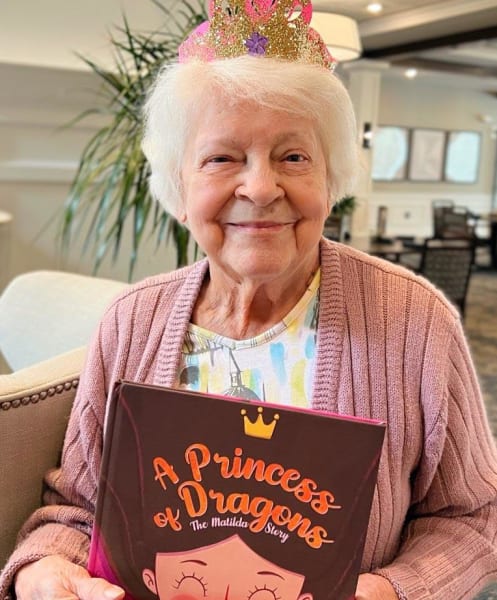 This month, The Wellington Senior Living is taking things a step further and embarking on the adventure of monthly Story Corner events in our community. One of our very own residents will read the Story Corner book of the month to children, as well as other residents, and share in a craft event and snack time. The featured book will then be added to our community library for residents to read to visiting grandchildren. A copy of the book will also be donated to local schools with which our community partners.
Intergenerational connections can help both children and older adults to be more mindful of each other. Watching an older person interact with a child is so special to see. Children will learn how to be patient with them and learn to appreciate the life that older people lived, the stories they tell and the wisdom they pass down.
With us being a new community, we currently do not have any school partnerships. However, I was contacted by a teacher at a high school for at-risk youth. The best part is they are right up the street from our community. The students are wanting to come and start a tech teaching night in November. They are looking forward to helping residents navigate their phones and computers.
One of our residents recorded the first Story Corner from The Wellington on September 23rd. We are anxiously awaiting to see and hear the final version.
My residents have told me how they enjoyed reading Winnie the Pooh and The Little Red Hen. They have said it feels like a full circle moment in their life when they read those same books to their grandchildren and even more special to read it to their great grandchildren.
All our Arrow communities encourage adults to give the gift of reading to youngsters. The relationships formed during the time spent between the reader and listener can be life changing for both generations.