In 1983, President Ronald Reagan proclaimed November as National Alzheimer's Disease Awareness month, bringing the plight of those facing the diagnosis, and the need for a cure, to the forefront. Today, there are more than 6.2 million Americans living with Alzheimer's Disease, and while research continues, a cure is yet to be identified. Arrow Senior Living is working to heighten awareness of Alzheimer's disease during the month of November through discussion and education.
Alzheimer's Disease is a brain disorder that physically attacks the neurons, nerves, and brain cells. It progresses and slowly destroys memory, thinking skills, and the ability to carry out the simplest tasks in one's daily life. Currently, no cure has been discovered for Alzheimer's. However, research, modern medicine, and education have shown ways to slow the progression of this terminal disease and treat symptoms associated with it. These can be pharmacological or non-pharmacological/holistic approaches.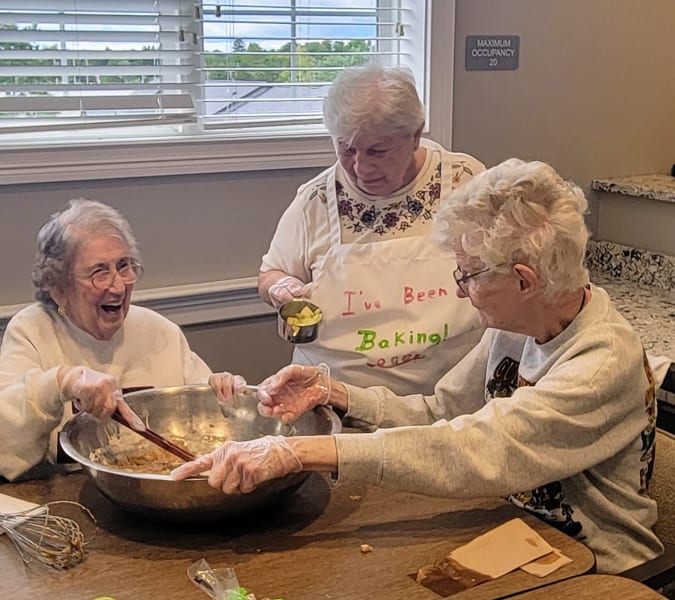 Engaging someone with Alzheimer's is first looking beyond the disease and understanding the human that is still very present. Focus on their individuality and what makes them the unique person they are. We do this as part of our jobs to learn in-depth about our residents by discovering their preferences, interests, triggers, and opportunities to provide solace. Then, we can utilize this as a foundation to establish an optimal daily routine.
At the Wellington Memory Care Neighborhood, our vibrant team is dedicated and committed to creating moments of joy that are filled with enthusiasm and energy at every turn. Our residents will feel the love exuding from our team daily in support of them, for any tasks that are developed from their personalized plan of care, so that they will thrive in their home. We focus on what they can do and allow them to navigate and explore their environment that is secure and safe with guidance, routine, and structure. This gives each resident an overall sense of well-being and purpose. Our journey is their journey. It is our intent to make everyday a great day and see our resident's flourish!
At The Wellington Senior Living we continue to increase our knowledge of Alzheimer's through ongoing education, so we can better empower those living with the disease and help their families to better cope. Our Memory Care Neighborhoods maintain awareness of this disease, while offering engagement, safety, and comfort to our residents.